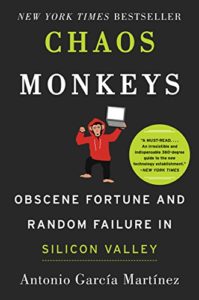 Chaos Monkeys is a memoir, detailing the author's career starting from Goldman Sachs to the startup world and eventually to Facebook.
It talks about him leaving Goldman Sachs for an ads startup called Adchemy, applying to YCombinator and starting his own company AdGrok, the law suit he faces and how he takes revenge, the process of selling the company to Twitter and him joining Facebook, and navigating corporate politics at Facebook to build an ads exchange.
It was surprising to come across Simla Ceyhan, someone from my college, in the story. As I was reading the book, I tried to look up people mentioned in it, which made it hyper-real and more fun.
The author knows how to get attention and can be manipulative at times. It's worth noting some of the catchy phrases in the book such as "Marketing is like sex: only losers pay for it" or "Investors are people with more money than time. Employees are people with more time than money. Startups are business experiments performed with other people's money". His controversial and polarizing views about Goldman Sachs and Facebook, combined with dramatized views of events that happened seemed to help him get more press coverage. At the end, he tries to get the sympathy of the reader by playing victim. He compares himself to his co-founders and argues that he didn't make much money due to selling his shares early and getting fired before fully-vesting his stock.
The author has a distinct voice and writing style that you'll either love or hate. Perhaps I enjoyed it more because I'm familiar with Facebook and a lot of people mentioned in the book. Overall, if reading a fast-paced, drama filled story that takes place in the technology world sounds like your cup of tea, this will be a very entertaining read indeed!