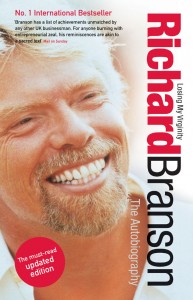 Losing My Virginity is Richard Branson's autobiography. It depicts Branson's life in chronological order, starting with his school years and Student magazine days. It continues with Virgin Mail Order business, setting up Virgin Record Shops and a recording studio, and eventually signing up artists to create a record label. Later parts of the book focus on his airline business and the competition between British Airways and Virgin Atlantic.
Branson's energy reflects in his writing, he starts the book with an exciting hot-air balloon adventure and knows how to engage the reader. There are some lessons to be learned from Richard Branson:
He's probably one of the most ambitious people on Earth. He pushes himself to the edge, either through financial debt or by record-breaking challenges with powerboats and hot-air balloons and makes very bold moves. His motto is to "experience as much as I can of life" and he says "My interest in life comes from setting myself huge, apparently unachievable challenges and trying to rise above them."
You need an audience first before starting a business. Branson uses Student magazine to start his mail order business. He uses his personal fame and media attention to strengthen the Virgin brand.
It's important to measure important metrics and do market research. "Nik and I spent a morning counting people walking up and down Oxford Street compared with people walking along Kensington High Street." He opened his record shops on cheaper ends of the high street and chose areas where teenagers hung out because "we knew that we couldn't rely on people knowing about the Virgin Records shop and making a special trip to buy a record, so we had to be able to attract passers-by into the shop on impulse."
It's important to focus on creating an experience and understanding what the customer wants.

"Bands had to check in at an appointed time, bring all their own equipment and set it up… Since the studios were so overbooked, bands would often have to record straight after breakfast. The idea of The Rolling Stones having to record 'Brown Sugar' straight after finishing their bowls of cornflakes struck me as ridiculous." When setting up a recording studio, he "imagined that the best environment for making records would be a big, comfortable house in the country".
"Music retailing was dull and formal. The dowdy staff registered no approval or interest if you bought the new Doors album. It was all the same for them…We wanted the Virgin Records shop to be a place where people could meet and listen to records together. We wanted them to stay longer, chat to the staff, and really get into the records they were going to buy."

You need to draw a line on sand. Branson says "Our shops flatly refused to sell the mass-market teeny-bopper records" and thinks that a record shop needs to be an arbiter of taste.
He moves up in the food chain from businesses with low margins to high margin businesses and each of his businesses support each other. He starts with a student magazine, creates a mail order business, opens a records shop, sets up a recording studio and finally starts signing up artists and becomes a record label.
The funniest part of the book is when he goes to a nightclub with Ahmet Ertegun, head of Atlantic Records, during final stages of negotiations. They ride in a limo with two stunningly beautiful black girls. Ahmet tells him "I'd just like to make one thing clear. I don't mind whether I sign Mike Oldfield or not" he said, patting my arm. "But I don't want any misunderstanding: both these girls are for me."
Overall, it's a very good read, definitely recommended if you're looking for motivation.