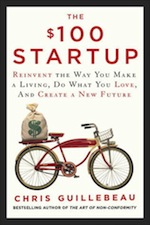 There are two different camps when it comes to startups: Bootstrapped, profitable businesses versus venture-funded companies with big ambitions.
The $100 Startup focuses on startups with low capital requirements that don't require specialised skills to operate and have more than $50K in yearly profits. It's a guide for potential entrepreneurs looking for personal freedom.
The author tries to get the reader into "I can do this too" mindset by sharing numerous successful lifestyle business stories. It walks you through each step of starting your lifestyle business, takes you from deciding on what to do to planning to launch, from tactics to increase profits to franchising your business.
It contains lots of useful advice and templates such as One-Page Business Plan, One-Page Promotion Plan, Product Launch Checklist, One-Page Partnership Agreement etc.
It contains distilled knowledge from interviewing more than 100 entrepreneurs. It's a good read for people looking to start lifestyle business, sparked a few ideas in my mind along the way as well.